Ook tijdens mijn lezing bij boekhandel Feijn in Alkmaar van 30 september j.l. mocht ik mij verheugen in een aandachtig en toegewijd publiek. Mijn uitgever Dolf Weverink was meegegaan en na afloop signeerde ik op verzoek van boekverkoper Michael van Buizen nog wat extra exemplaren voor de komende feestdagen.
Een dag later zond de ConcertZender de eerste aflevering uit van 'Panorama de Leeuw', waarin ik elke eerste woensdag van de maand het muziekspoor volg van Reinbert de Leeuw aan de hand van mijn biografie Reinbert de Leeuw, mens of melodie. In muziektijdschrift Luister van oktober-november werd het programma paginagroot aangekondigd.
De aflevering van Panorama de Leeuw van 1 oktober 2014 is hier terug te luisteren (klikken op het mini-luidsprekertje naast de programmatitel). Ik ben inmiddels volop bezig met de voorbereidingen voor aflevering twee, op woensdag 5 november tussen 21.00-22.00 uur.
Tot mijn verrassing bleek de website van mijn geboortedorp Oostrum een uitgebreid bericht aan het programma gewijd te hebben. Nu maar hopen dat de inwoners massaal gaan luisteren naar nieuwe muziek 🙂 En dankzij een tweet van Wouter Steenbeek ontdekte ik tot mijn nog grotere verbazing – en niet geringe trots – dat de Limburg-wiki een lemma aan mij heeft gewijd. – In het Maastrichts.
Donderdag 2 oktober beleefde het 'symphonic cinema' The Firebird van Lucas van Woerkum zijn wereldpremière, tijdens het openingsconcert van het Nederlands Filmfestival in TivoliVredenburg. Markus Stenz dirigeerde het Radio Filharmonisch Orkest en het concert werd herhaald op zaterdag 4 oktober in de serie De vrijdag van Vredenburg van de AVROTROS op Radio 4. Ik sprak hiervoor met Lucas van Woerkum en maakte een reportage van het project rond Firebird van leerlingen van het Amadeus Lyceum uit Vleuten. Je kunt ze hier beluisteren.
Enkele dagen later kreeg ik de poster toegestuurd over mijn lezing bij Boekhandel Broekhuis in Enschede op donderdag 23 oktober a.s. Geestig dat deze in de winkel naast een aankondiging hangt voor Wim Brands, die er een week eerder te gast is. Aangezien Brands in zijn televisieprogramma 'Brands met boeken' tot op heden geen aandacht aan mijn biografie heeft besteed, is dit een aardig doekje voor het bloeden…
"@BoekEnschede: @tdrks @KarinM4 @ErikInkoper " Kom ik toch nog eens bij @BoekenBrands, zij het alleen op papier -:)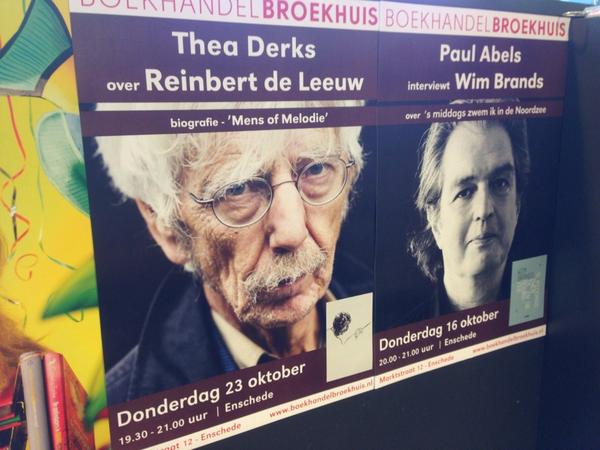 Op woensdag 8 oktober verzorgde ik de inleiding bij een concert van het Hilliard Ensemble en het Asko|Schönberg in TivoliVredenburg in Utrecht. Het betrof de afscheidstournee van het Hilliard Ensemble, dat veertig jaar lang op topniveau zowel oude als de allernieuwste muziek heeft gepresenteerd. Ze waren alle vier nadrukkelijk present bij de inleiding, een bij wijlen hilarische belevenis.
Het Hilliard Ensemble zong twee speciaal voor hen gecomponeerde werken van John Casken: een bewerking van Viderunt omnes van de middeleeuwse geestelijke Perotinus en The Dream of the Rood uit 2008. Op het programma stond daarnaast Magnum ignotum van de Georgische componist Giya Kantsjeli. Ik sprak tijdens de inleiding ook met John Casken en dirigent Clark Rundell. Het was een mooi concert, waarin oude en nieuwe muziek op een vanzelsprekende manier aan elkaar gekoppeld werden. Het publiek in de goed gevulde Hertz zaal reageerde dan ook enthousiast, hoewel tijdens mijn inleiding was gebleken dat bijna niemand de uitgevoerde componisten kende.