Eindelijk is hij er dan: de derde druk van mijn #Reinbertbio. Op 30 juni ontving ik dit heuglijke bericht van mijn uitgever. Meteen diezelfde dag verschenen er op Twitter foto's van mensen die het boek al in huis hadden via hun eigen boekhandel. Henk Matthezing nam Reinbert op schoot:
Hans Traarbach fotografeerde voor- en achterkant.
Ah, leuk! Een week eerder dan verwacht. De nieuwe uitgave van de biografie van #ReinbertdeLeeuw, geschreven door @tdrks
Ik heb hem in huis.
Op 1 juli haalde ik de #Reinbertbio en Slotakkoord op bij mijn uitgever Dolf Weverink:

@tdrks 1 juli
Yes! Zojuist 3e Druk #Reinbertbio en 1e druk Slotakkoord opgehaald bij @dweverink – Bestel via je boekhandel of rechtstreeks bij Leporello https://leporello.vrijeboeken.com/onze_titels_24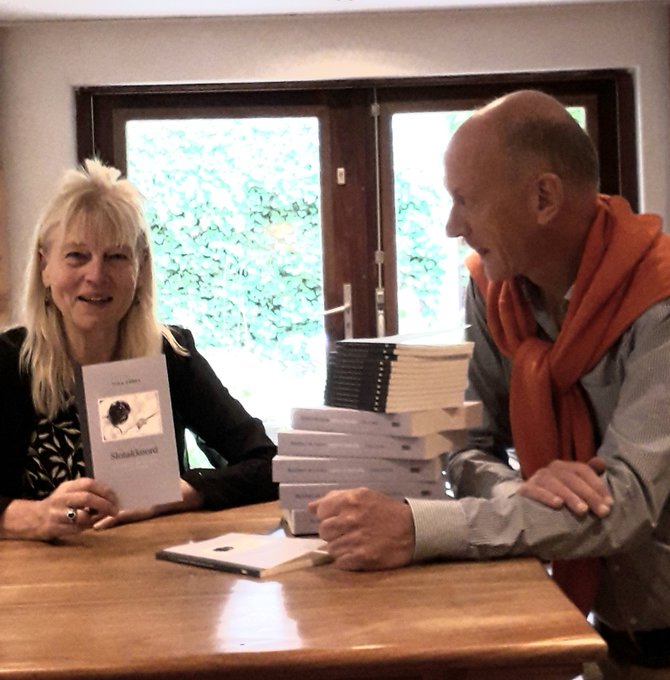 Ik stuurde meteen een exemplaar naar Lian Strijards, die de bio al maanden geleden had besteld. Een dag later had ze hem al binnen. Ze verheugde zich op 'de dikke pil' en op wat ze er allemaal van op gaat steken:

Speciaal voor wie de 1e of 2e druk al heeft, verschenen de twee extra hoofdstukken apart, onder de titel Slotakkoord: Reinbert de Leeuw 2014-2020. Ook dit boekje bleken sommigen al in huis te hebben voor ik het zelf nog maar gezien had.
Evert van Kuijk miste een persoonlijke opdracht in zijn exemplaar van de boekhandel…
De postbode bracht weer veel verrassingen deze week: o.a. 'Slotakkoord. Reinbert de Leeuw 2014-2020' van Thea Derks. Maar er staat geen (persoonlijke) opdracht in. Wat is het leven toch kil soms en vol teleurstellingen. Ik wil zo gauw mogelijk een persoonlijke opdracht. 🙂 11:33 p.m. · 1 jul. 2020
René van Trigt bleek
Slotakkoord
zelfs al gelezen te hebben. Hij mailde op 30 juni:
'
De postbode bezorgde je fraaie Slotakkoord hier eind van de middag. En heb hem 'm -dat kon natuurlijk niet anders- meteen verslonden! Hulde voor jou. Want Reinbert heb je ook hier weer mee het standbeeld gegeven, dat er nog fysiek niet van hem is.'
Carine Alders had het boekje bij mij persoonlijk besteld en postte vandaag op Twitter:
Mijn collega Sven Schlijper-Karssenberg bleek het zelf al te hebben aangeschaft en postte een mooi bericht op Facebook:
Henri Buddenböhmer vroeg zich op FB af of er inhoudelijk iets gewijzigd was in de 3e druk:
Op donderdag 2 juli had ik een leuk gesprek met Hans Haffmans over beide uitgaven in NTR Podium op Radio 4. Hij prees mijn boek aan en benadrukte nog eens dat het ook een kroniek is van het Nederlandse muziekleven vanaf begin 20e eeuw.

Agnes van der Veld had geluisterd:
Joed Elich had maar liefst 5 exemplaren besteld, die ik 2 juli op de post heb gedaan en die hem de volgende al bereikten. Hij gaat ze uitdelen aan zijn vrienden en noemt de bio een 'mustread':